| | |
| --- | --- |
| | This article is currently a work in progress. Missing information and/or images are common. Please wait patiently for more information or images to be added, or help out by contributing. |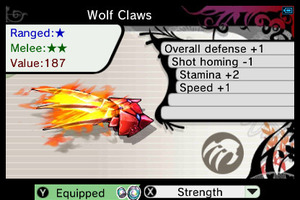 Weapon Modifiers, or stats, alter a weapon's attributes. The various modifiers are listed below.
Modifier Variants
Shot Range
Range: -4 to +4
Shot Cancelation
Range: 0 to +1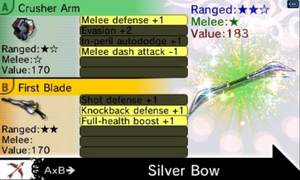 Shot Defense
Burning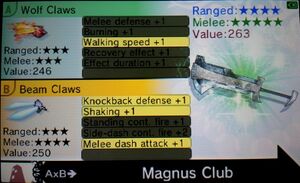 Poison
Confusion
Petrification
Freezing
Paralysis
Shaking
Weakening
Status Resistance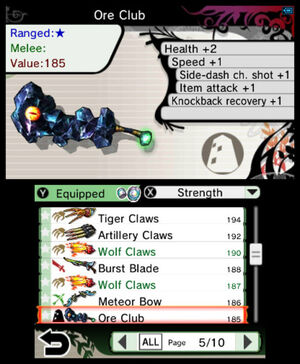 Speed
Running Speed
Walking Speed
Overall Defense
Melee Defense
Knockback Defense
Health
Self-injury
In-peril Autododge
In-peril Attack Boost
Full-health Boost
Recovery effect
Power Attack
Item Attack
Stamina
Evasion
Standing Ch. Shot
Dash Ch. Shot
Forward Dash Ch. Shot
Backward Dash Ch. Shot
Side Dash Ch. Shot
Standing cont. fire
Dash cont. fire
Forward Dash cont. fire
Backward Dash cont. fire
Side-dash cont. fire
Melee Combo
Melee Dash Attack
Knockback Recovery
Heart Bonus
Natural Occurring Modifiers
Some weapons will have modifier attributes already present without the need of additional modifiers. This is the case with 100 value versions of the weapon. Below is a list of weapons with pre-included attributes:
Ad blocker interference detected!
Wikia is a free-to-use site that makes money from advertising. We have a modified experience for viewers using ad blockers

Wikia is not accessible if you've made further modifications. Remove the custom ad blocker rule(s) and the page will load as expected.