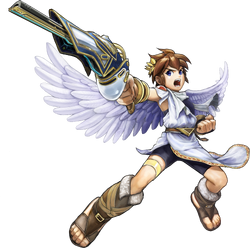 Weapons
are a basic gameplay mechanic in
Kid Icarus: Uprising
, used for battling foes. The player will be given a
First Blade
when they start the game, and will
unlock weapons
as they progress. There are twelve different weapons under each weapon category, giving
Uprising
a total of 108 unique weapons.
Types of Weapons
There are nine different categories of weapons, each of which can perform a Special Attack. All weapons are able to perform melee, ranged, dash and charge attacks.
At the Arms Altar, the player can fuse two weapons into a new, singular weapon, which can adopt attributes from the two weapons used to create it. Each weapon has an ID number, and the result of combining both numbers determines the outcome of the fusion.
Gallery
Ad blocker interference detected!
Wikia is a free-to-use site that makes money from advertising. We have a modified experience for viewers using ad blockers

Wikia is not accessible if you've made further modifications. Remove the custom ad blocker rule(s) and the page will load as expected.