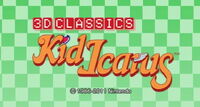 Nintendo announced that North American players who preorder Kid Icarus: Uprising from Amazon, Best Buy or GameStop will get a code to download a 3D remastered version of the original NES classic, Kid Icarus.
The remake uses new backgrounds and 3D graphics, but reportedly stays true to the original game.
Source: Nintendo World Report
Ad blocker interference detected!
Wikia is a free-to-use site that makes money from advertising. We have a modified experience for viewers using ad blockers

Wikia is not accessible if you've made further modifications. Remove the custom ad blocker rule(s) and the page will load as expected.