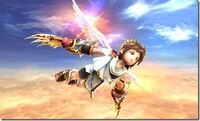 The guys over at Siliconera have gathered a batch of 48 3D screenshots from Kid Icarus: Uprising that you can view on your 3DS. To view the images, you will need to download this zip file. Then extract it to the DCIM folder on your 3DS console's SD card and load up 3DS Camera.
Ad blocker interference detected!
Wikia is a free-to-use site that makes money from advertising. We have a modified experience for viewers using ad blockers

Wikia is not accessible if you've made further modifications. Remove the custom ad blocker rule(s) and the page will load as expected.