Warning!
This article may contain spoilers.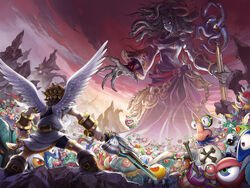 The
Underworld Army
(冥府軍
Meifu-gun
, "Netherworld Army"), formerly known as
Medusa's Army
,
[1]
is one of the primary factions, as well as the main antagonistic group, of the
Kid Icarus
series. Ruled by
Hades
, they seek destruction in order to provide their leader with souls.
Hades supplies the army with troops by converting souls into monsters; any souls that are not used for this purpose are reincarnated, consumed, or simply fade away.
Members
Notable Members
Troops
Other
References
↑ http://www.gamesdatabase.org/Media/SYSTEM/Nintendo_NES/manual/Formated/Kid_Icarus_-_1987_-_Nintendo.pdf (as seen in the original Kid Icarus game manual)
Ad blocker interference detected!
Wikia is a free-to-use site that makes money from advertising. We have a modified experience for viewers using ad blockers

Wikia is not accessible if you've made further modifications. Remove the custom ad blocker rule(s) and the page will load as expected.