| | |
| --- | --- |
| | This article is currently a work in progress. Missing information and/or images are common. Please wait patiently for more information or images to be added, or help out by contributing. |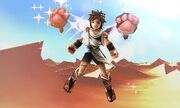 The Paw Pad Orbitars are Orbitars introduced in Kid Icarus: Uprising. They were added to the game because of Masahiro Sakurai's fondness of kittens.
Idol Description
The Paw Pad Orbitars are too cute, aren't they? They have a short charge time, and shots bounce about like an excited kitten. Shield yourself with the backward-dash charged shot, or circle around enemies using continuous fire.
Ad blocker interference detected!
Wikia is a free-to-use site that makes money from advertising. We have a modified experience for viewers using ad blockers

Wikia is not accessible if you've made further modifications. Remove the custom ad blocker rule(s) and the page will load as expected.