| | |
| --- | --- |
| | This article is currently a work in progress. Missing information and/or images are common. Please wait patiently for more information or images to be added, or help out by contributing. |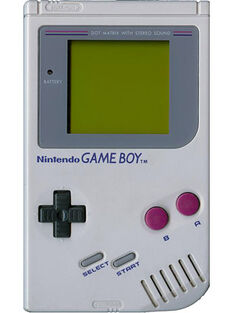 The Game Boy is an 8-bit handheld video game console developed and manufactured by Nintendo. It was released in Japan on April 21, 1989 (1989-04-21), in North America on July 31, 1989 (1989-07-31), and in Europe on September 28, 1990 (1990-09-28). In Southern Asia, it is known as the "Tata Game Boy." It is the first handheld console in the Game Boy line. It was created by Gunpei Yokoi (who created Kid Icarus) and Nintendo's Research and Development 1—the same staff who had designed the Game & Watch series, as well as several popular games, for the NES.
Ad blocker interference detected!
Wikia is a free-to-use site that makes money from advertising. We have a modified experience for viewers using ad blockers

Wikia is not accessible if you've made further modifications. Remove the custom ad blocker rule(s) and the page will load as expected.