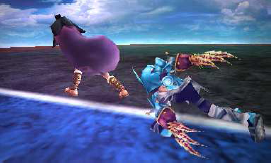 Eggplant Attack is a power in Kid Icarus: Uprising. It allows the player to inflict an eggplant status to an enemy without the use of an Eggplant Bomb. It can only be used in Together Mode. To unlock this power from Palutena's Treasure Hunt, Pit must be turned into an eggplant five times.

Description
Attacks inflict an eggplant status on a foe, which makes it unable to attack. (Together mode only.)
Uses
Power Board
| | |
| --- | --- |
| | This article is currently a work in progress. Missing information and/or images are common. Please wait patiently for more information or images to be added, or help out by contributing. |
Ad blocker interference detected!
Wikia is a free-to-use site that makes money from advertising. We have a modified experience for viewers using ad blockers

Wikia is not accessible if you've made further modifications. Remove the custom ad blocker rule(s) and the page will load as expected.