Darkness Bow

"The Darkness Bow is shrouded in mystery."
Vital statistics
Weapon Type
Range Strength
Becomes stronger over distance
Strongest Attack
Forward-Dash Charge Shot
The
Darkness Bow
is a
Bow
introduced in
Kid Icarus: Uprising
. 
Pit's Body
 uses this weapon in
Chapter 18
. The Darkness Bow has a poor homing ability. Unlike most bows, the Darkness Bow has the best melee attacks of its weapon type. It also possesses the strongest charged shots at max range.
| | |
| --- | --- |
| | This article is currently a work in progress. Missing information and/or images are common. Please wait patiently for more information or images to be added, or help out by contributing. |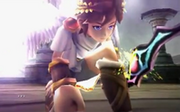 Idol Description
The Darkness Bow is shrouded in mystery. Its ranged attacks are powerful, and it even excels as a melee weapon. However, it comes up short in terms of homing ability and charge time.
Trivia
The fact that Pit's Body uses the Darkness Bow references that Pit's Body is shrouded in mystery, like the bow itself.