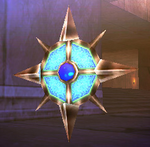 The
Capture Circle
is a new item introduced in
Kid Icarus: Uprising
that is used as a trapping device to temporarily root enemies on the spot. However, enemies are not left vulnerable while they are stuck. It is a good idea to place this item in narrow hallways, as it is an ideal opportunity for enemies to fall into the trap.
Idol Description
Those who come into contact with a Capture Circle get temporarily fixed to the spot. This doesn't prevent them from attacking or dodging, however, so don't underestimate your prey when using this item!
Trivia
Ad blocker interference detected!
Wikia is a free-to-use site that makes money from advertising. We have a modified experience for viewers using ad blockers

Wikia is not accessible if you've made further modifications. Remove the custom ad blocker rule(s) and the page will load as expected.