Atlas Club

"A club that handles more like other weapon types."
Vital statistics
Weapon Type
Club
Range Strength
Becomes stronger over distance
Strongest Attack
Melee Dash Attack
The
Atlas Club
is a 
Club
 debuting in 
Kid Icarus: Uprising
. It plays more like other weapons, as its shots don't go through walls and it provides a speed boost. Like the
Atlas Foot
, this club is modeled after Atlas' limbs, specifically, his right arm. The club takes 4.5 seconds to charge.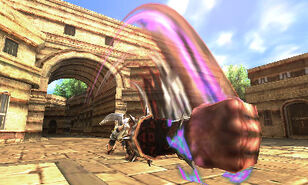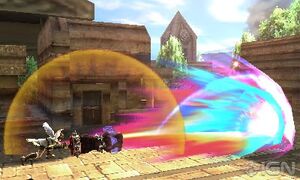 Idol Description
Unlike most clubs, the Atlas Club allows users to run quickly while using it. Its shots don't pass through obstacles, but its dash attacks travel fast with a high homing ability. A club that handles more like other weapon types.
Statistics
Max Shot Distances
Standing Continuous: N/A*
Standing Charged: 37.0m
Forward Dash Continuous: N/A*
Forward Dash Charged: 66.4m
Side Dash Continuous: N/A*
Side Dash Charged: 50.3m
Backward Dash Continuous: N/A*
Backward Dash Charged: 53.8m
Base Melee Damage
Combo Strike 1: 42.5
Combo Strike 2: 47.5
Dash Strike: 75.0
Ranged Damage Ratio
Standing Continuous*:
Slash1: 22.5 Slash 2: 32.5
Standing Charged**:
Max: 52.6 Min: 42.2
Forward Slash: 23.8
Forward Dash Charged**:
Max: 73.7 Min: 60.2
Side Slash: 16.3
Side Dash Charged**:
Max: 68.4 Min: 54.7
Backward Slash: 22.5
Backward Dash Charged**:
Max: 47.7 Min: 38.8
Must be at melee range due to its lack of continuous fire*
If close enough, the club's swing can inflict damage**
Note: All data are from the basic weapon valued of 100.
| | |
| --- | --- |
| | This article is currently a work in progress. Missing information and/or images are common. Please wait patiently for more information or images to be added, or help out by contributing. |
Ad blocker interference detected!
Wikia is a free-to-use site that makes money from advertising. We have a modified experience for viewers using ad blockers

Wikia is not accessible if you've made further modifications. Remove the custom ad blocker rule(s) and the page will load as expected.