| | |
| --- | --- |
| | This article is currently a work in progress. Missing information and/or images are common. Please wait patiently for more information or images to be added, or help out by contributing. |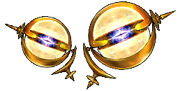 Arlon Orbitars are based on the Lunar Sanctum, and its projectiles are based off the attacks used by Arlon the Serene, one of Viridi's commanders and guardian of the Lunar Sanctum who also serves as the boss for Chapter 13. They have the longest range of all Orbitars.
Idol Description
Inspired by Arlon the Serene. But unlike Arlon, this weapon is far from invisible in combat, featuring the longest range of any of the orbitars. Its continuous fire unleashes a stream of the chakrams used by Arlon.
Ad blocker interference detected!
Wikia is a free-to-use site that makes money from advertising. We have a modified experience for viewers using ad blockers

Wikia is not accessible if you've made further modifications. Remove the custom ad blocker rule(s) and the page will load as expected.