| | |
| --- | --- |
| | This article is currently a work in progress. Missing information and/or images are common. Please wait patiently for more information or images to be added, or help out by contributing. |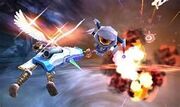 Pit
starts most chapters (all except
Chapter 18
) with an
Air Battle
. Enemies are easier to defeat in Air Battles, but the hearts and loot acquired are of less value. The Air Battle segments are mostly about flying through a series of enemies and hazards as Pit makes his way to a particular destination, such as the Seafloor Palace, where he will then take land for Land Battle. Compared to the Land Battles, the Air Battles seem a lot more fast-paced and action-packed, and can even have that feeling like the player is watching a movie, since they're mostly automated.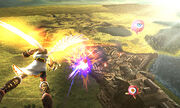 Ad blocker interference detected!
Wikia is a free-to-use site that makes money from advertising. We have a modified experience for viewers using ad blockers

Wikia is not accessible if you've made further modifications. Remove the custom ad blocker rule(s) and the page will load as expected.